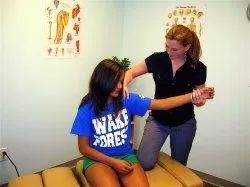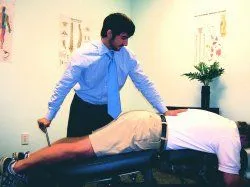 "Dr. Porter truly helped me! I was having excruciating arm and neck pain that was keeping me from sleeping and running my horse ranch. I had been to other doctors, including other chiropractors, and nothing seemed to help. I was almost out of hope and in real pain. I went to see Dr. Porter at my niece's suggestion, and it was amazing. She explained what she believed was causing my discomfort in understandable terms and then started me on a treatment plan. After 2 weeks I was able to sleep fully through the night and the pain had been greatly reduced, and after 4 weeks I was able to completely return to running my horse ranch without pain and did not need to hire ranch workers anymore. A wonderful extra benefit is that I had suffered from low back pain for 15 years that at periods had kept me in bed for days. Dr. Porter relieved all my low back pain as well as treating the excruciating arm and neck pain. I came in to be treated for one symptom and Dr. Porter helped me with my entire body! I am very thankful and appreciative for her care."
~ M.B.
"Absolutely positively the best experience I've had with a doctor. My problem (chronic tennis elbow) melted away!" ~ A.M. (treated by Dr. Rabinowitz)
"Due to a flare up of an old injury I needed treatment for the pain and lack of mobility in my neck. It was difficult to perform my duties with work, which included lots of travel. The staff was very good arranging appointment on short notice and working around my travel schedule. The adjustments have me doing much better. With being new to the area I'm so glad to have found such accommodating and effective professionals." ~ B.L. (treated by Dr. Rabinowitz)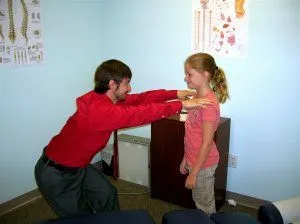 "Dr. Porter helped my daughter so much! She not only treated her poor posture, but detected an underlying food allergy that dramatically changed my little girl for the better. She sleeps better, her grades improved, and seems to complain much less of stomach pain and feeling unwell. We are so grateful to have a doctor who looks at the entire person and is knowledgeable in more than just pain and body movement!" ~A.A.
I first heard about Dr. Rabinowitz when my sister told me about this chiropractor 'that was different than any other'. Of course I was skeptical at first, having been to a few chiropractors before. The ones I had been to just popped your back and adjusted your neck and you were done. They never had a long-term solution to the problem, they just had a quick fix that needed continual maintenance. Well, I decided to see for myself and after one meeting with Dr. Rabinowitz I could tell that he was not just your typical chiropractor. He explained to me how the body works and how he can use muscle systems to figure out what injuries I had or what areas of the body needed work to provide a long-term solution. I have noticed significant improvement since beginning to see him! I had continuous pain in my shoulder from the strain I put on it at my job, unrelenting and chronic. Dr. Rabinowitz took the time to not just adjust my shoulder, but to figure out what was wrong and to actually fix the root problem. The pain in my shoulder has decreased to the point where it is not even noticeable most of the time. Not only has he helped me with my shoulder, but he has helped me with my overall health. I would recommend Porter & Rabinowitz to anyone and everyone. And, I am happy that I have finally found someone that focuses not only on fixing the problem, but also looks to prevent if before it occurs again. ~ J.H.