Auto Injury Treatment at Porter & Rabinowitz Chiropractic

Whiplash, a soft tissue injury to the neck, is also called neck sprain or neck strain. It is characterized by a collection of symptoms that occur following damage to the neck, usually because of sudden extension and flexion. The disorder commonly occurs as the result of an automobile accident and may include injury to intervertebral joints, discs, ligaments, cervical muscles, and nerve roots.
Symptoms such as neck pain may be present directly after the injury or may be delayed for several days. In addition to neck pain, other symptoms may include neck stiffness, injuries to the muscles and ligaments (myofascial injuries), headache, dizziness, abnormal sensations such as burning or prickling (paresthesias), or shoulder or back pain. In addition, some people experience cognitive, somatic, or psychological conditions such as memory loss, concentration impairment, nervousness/irritability, sleep disturbances, fatigue, or depression.
Chiropractic care is exceptional in the treatment of soft tissue injuries, especially of the spine. Since the most common injuries associated with MVA's are sprains and strains of the spinal muscles and ligaments, it's only natural that chiropractic is the treatment of choice.
---
Auto Injury Treatment FAQs and Answers from our Wake Forest Chiropractors
When you get into a car accident, our experienced Wake Forest chiropractors understand that you have questions about your injuries and the available auto injury treatment options available to you. Here are five of the most common questions we receive about musculoskeletal auto accident injuries and the answers from our chiropractors here at Porter & Rabinowitz Chiropractic.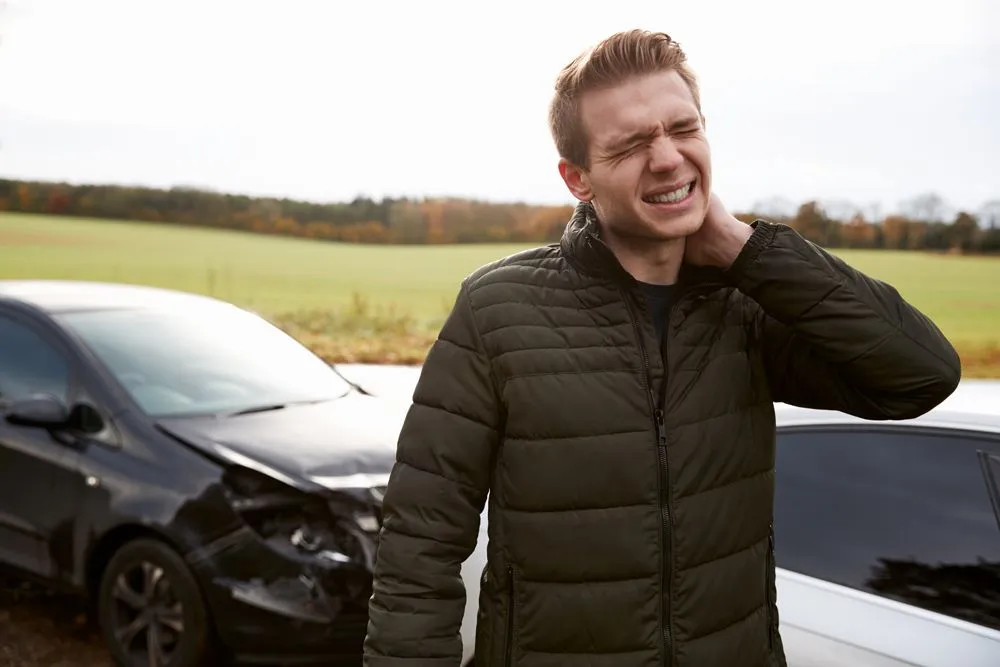 Why Should I See an Auto Accident Chiropractor After a Low-Speed Minor Car Accident?
Low-speed car accidents can injure your back and neck, leading to moderate to severe pain and headaches 24 to 48 hours after your accident. Instead of waiting to see if symptoms develop, it is best to schedule an appointment with our auto accident chiropractor to have your back and neck examined for injuries, like pinched nerves and herniated discs. If there are misalignments or inflammation, you can receive treatment before your symptoms become severe.
Should I see Your Chiropractor if I Have Neck and Back Pain After an Accident?
If you have neck and/or back pain after a car accident, you probably have an injury. Common injuries that individuals experience after vehicle accidents include herniated discs, sprains, and strains, pinched nerves, whiplash, and subluxations. Our trusted chiropractor in Wake Forest can diagnose the causes of your pain and recommend a treatment program to help reduce your pain and help you heal.
What Treatments Does Your Chiropractor Offer for Car Accident Injuries?
Our chiropractors in Wake Forest offer a variety of non-invasive treatment options that can help your body heal without the need for powerful pain medications. We offer chiropractic care, which includes spinal and extremity joint adjustments, spinal decompression, shockwave therapy, nutritional guidance and lifestyle advice. These treatments are effective at healing herniated discs, back and neck pain and other soft tissue injuries that are the result of a car accident.
How Many Treatments will I Need for My Whiplash and Back Injuries?
The severity of your whiplash or back injury will determine how many treatments you need. In general, our chiropractor follows a three-phase relief and healing program. In the beginning, we will focus on reducing your symptoms with chiropractic care and lifestyle advice. As you heal, we will adjust your treatment program in order to correct joint dysfunctions and restore movement. Lastly, we will provide ongoing wellness care to help you improve your overall health and reduce your risk of experiencing future injuries or pain.
Schedule an appointment with an Experienced Wake Forest Chiropractor
Don't continue to suffer from your auto accident injuries. Schedule an appointment with our Wake Forest chiropractors at Porter & Rabinowitz Chiropractic by giving us a call at 919-556-0282.